You are reading
EVERYTHING YOU NEED TO KNOW ABOUT RUM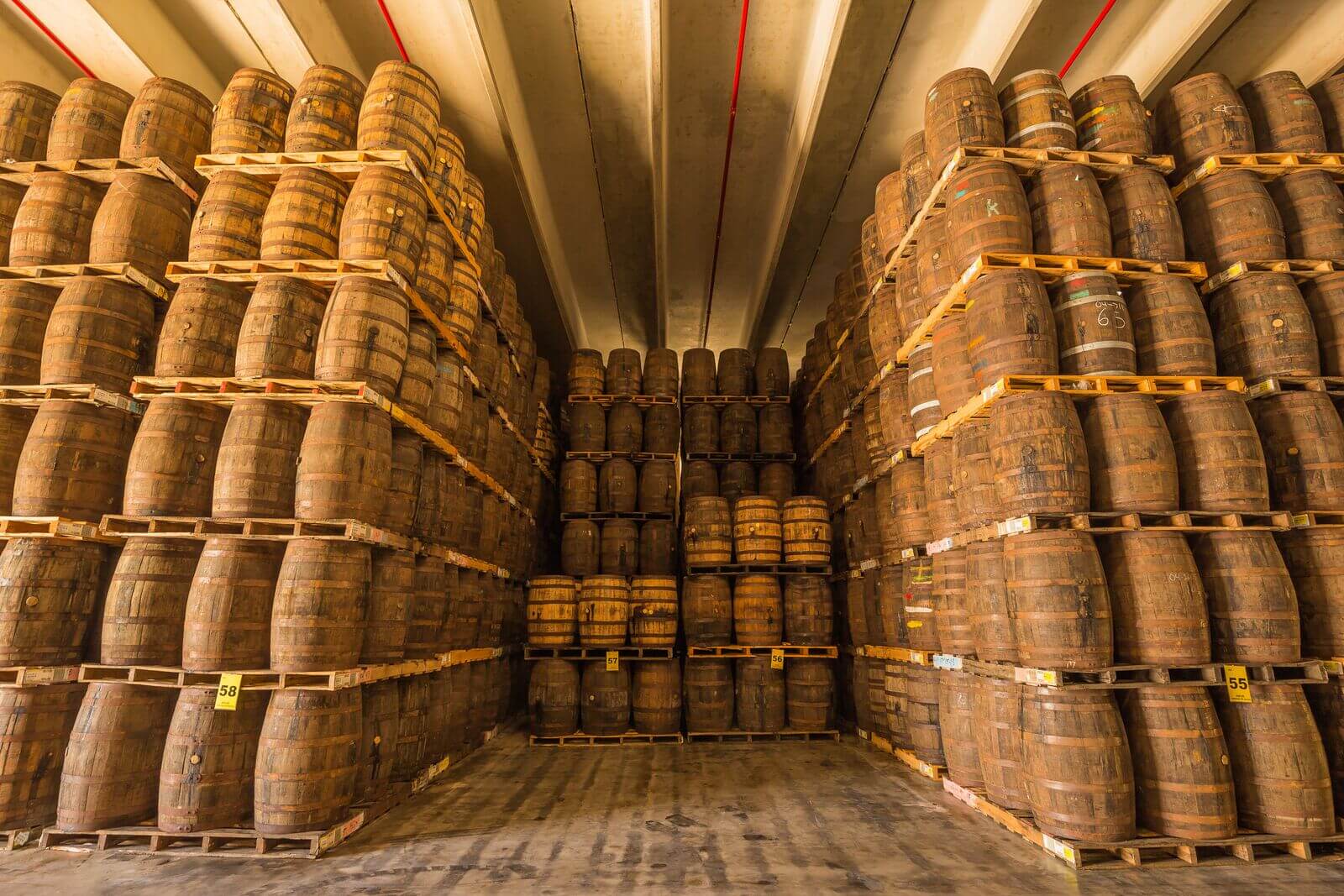 Editorial
EVERYTHING YOU NEED TO KNOW ABOUT RUM
4 min read
Here at BACARDÍ, rum is our speciality
With so many brilliant flavours and endless recipes to try, we know that it might be difficult knowing where to begin on your rum journey. So we're here to help! A tasty little guide to get you up to speed on all things rum.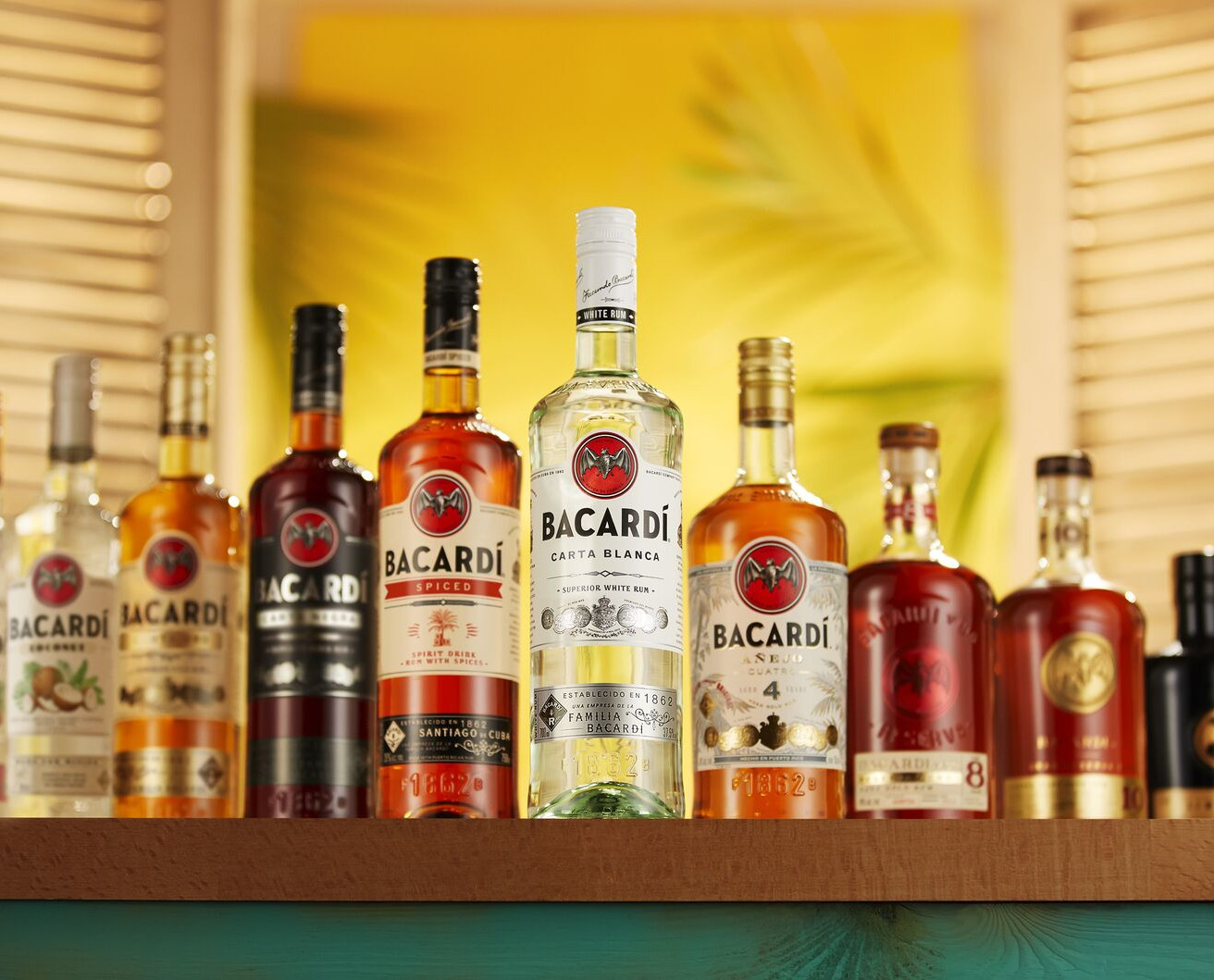 THE BASICS
At BACARDÍ we make rum – from white to flavours, spiced and decadent sun-aged rums. To make a batch of BACARDÍ's delicious rum requires just three ingredients: molasses from sugarcane, yeast and water.
The water dilutes the molasses enough for BACARDÍ's unique strain of yeast (which we keep locked up in special refrigerators) to ferment. This process creates both carbon dioxide and alcohol, otherwise known as 'Mash.'
After fermentation we distill the 'Mash' to evaporate and collect the alcohol. It's then filtered before the fun part – ageing. This is where the rum takes on all the delicious characters and notes that we love.
Find out more about making BACARDÍ rum here.
THE EXPERTS BEHIND IT ALL
Behind every bottle of BACARDÍ, there's a talented craftsperson checking each and every batch of BACARDÍ rum. With the prestigious title of Maestro de Ron BACARDÍ, our 'Masters of BACARDÍ rum' have decades of training and experience under their belts – so nothing sneaks under their noses. More than a Master Blender or Master Distiller, they oversee everything. From the distillery to the rum plant, they follow traditions and steps handed down through 15 generations to ensure the delicious quality and taste in each and every bottle.
NEXT STEP: BARRELS
Oak barrels play a key role in developing the flavour, aroma, colour and smoothness in every bottle of BACARDÍ.
It's all about absorption: The rum takes on the barrel's natural wood goodness, developing its unique flavour.
A match made in Heaven: Combining different rum bases creates brand new flavours.
Charcoal say what!: With its absorption powers and its use in the filtration process, charcoal is almost magical. BACARDÍ's carefully selected charcoal blend is so important it's TOP SECRET.
A breath of fresh air: Oxidation contributes to the unique flavour and colour of rum. So we seal all our barrels once they're filled to 90% capacity, starting this process ASAP.
The Angel's Share: This is the name given to the alcohol that evaporates as spirits mature, concentrating the flavour of what's left. Watch Michael B. Jordan's film to discover why the angels love BACARDÍ best.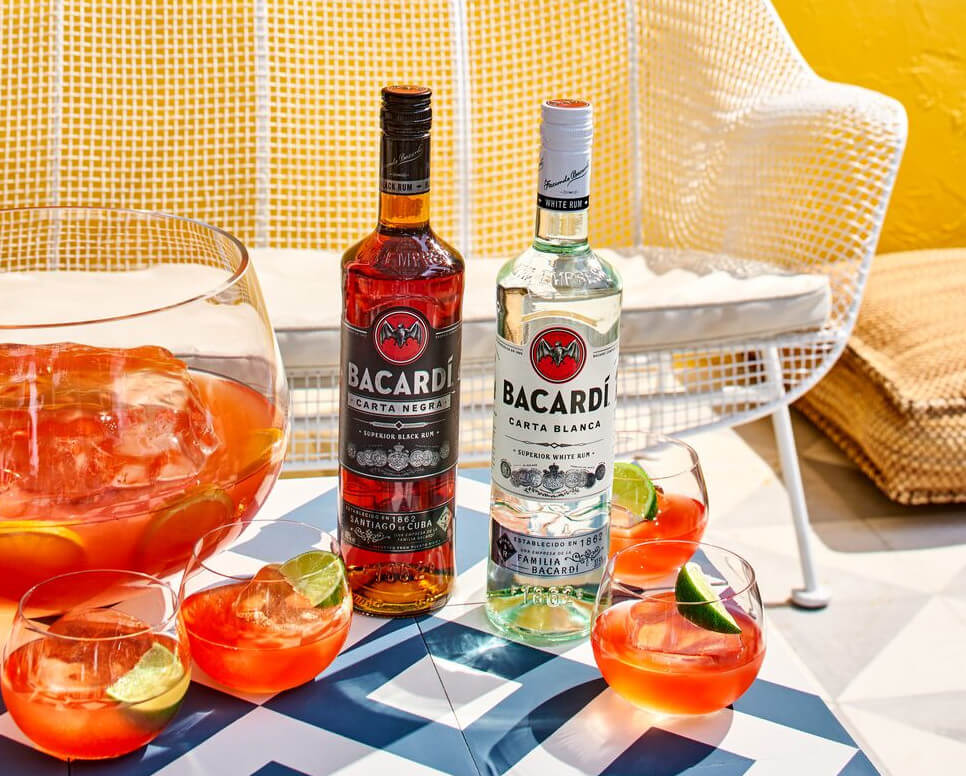 LIGHT RUM VS DARK RUM
It's all about time, my friend. You may not know this but all BACARDÍ Rums are aged, undisturbed in oak barrels. And it's this ageing process that develops the character, flavours, and colour of our Rums.
So, how can aged rums be colourless?
The secret: Charcoal. It's charcoal filtration that our Maestros depend upon to help shape and polish our Rums. There are even special charcoals that have the power to remove colour.
Ageing, blending and filtering our Rums in this way helps our Maestros de Ron BACARDÍ develop something for every palate.
Top up your knowledge with our aged rum guide or skip the reading and get yourself on our rum tasting tour.
THE RUM ESSENTIALS
Here at BACARDÍ, rum is our speciality. From spiced to aged, here's a little guide to getting to know our rums better.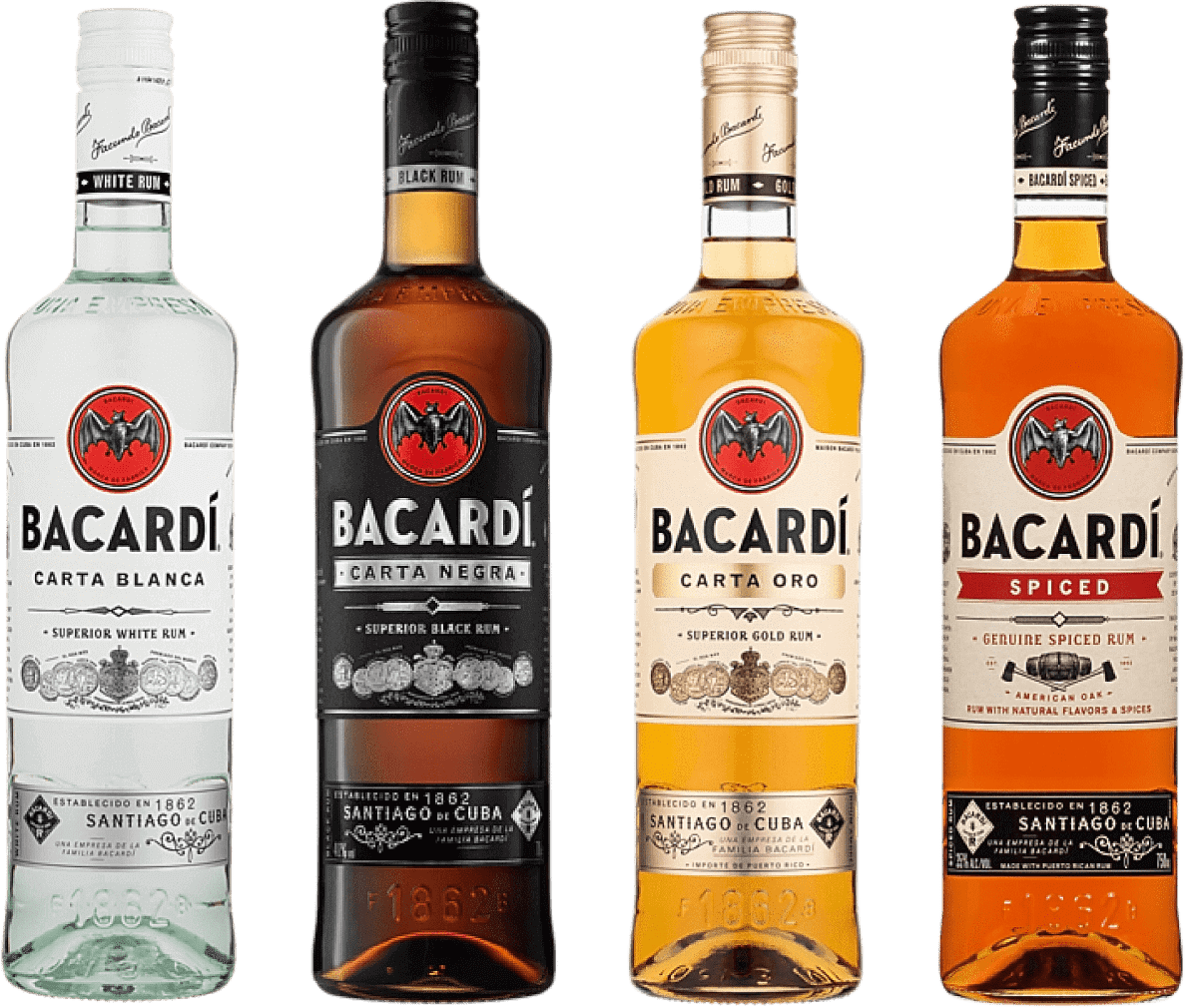 The Carta range
These rums are the world's most-awarded. Sun-soaked, they're made to mix with a variety of flavours.
This range includes BACARDÍ Carta Blanca, BACARDÍ Carta Oro, BACARDÍ Carta Negra and BACARDÍ Spiced.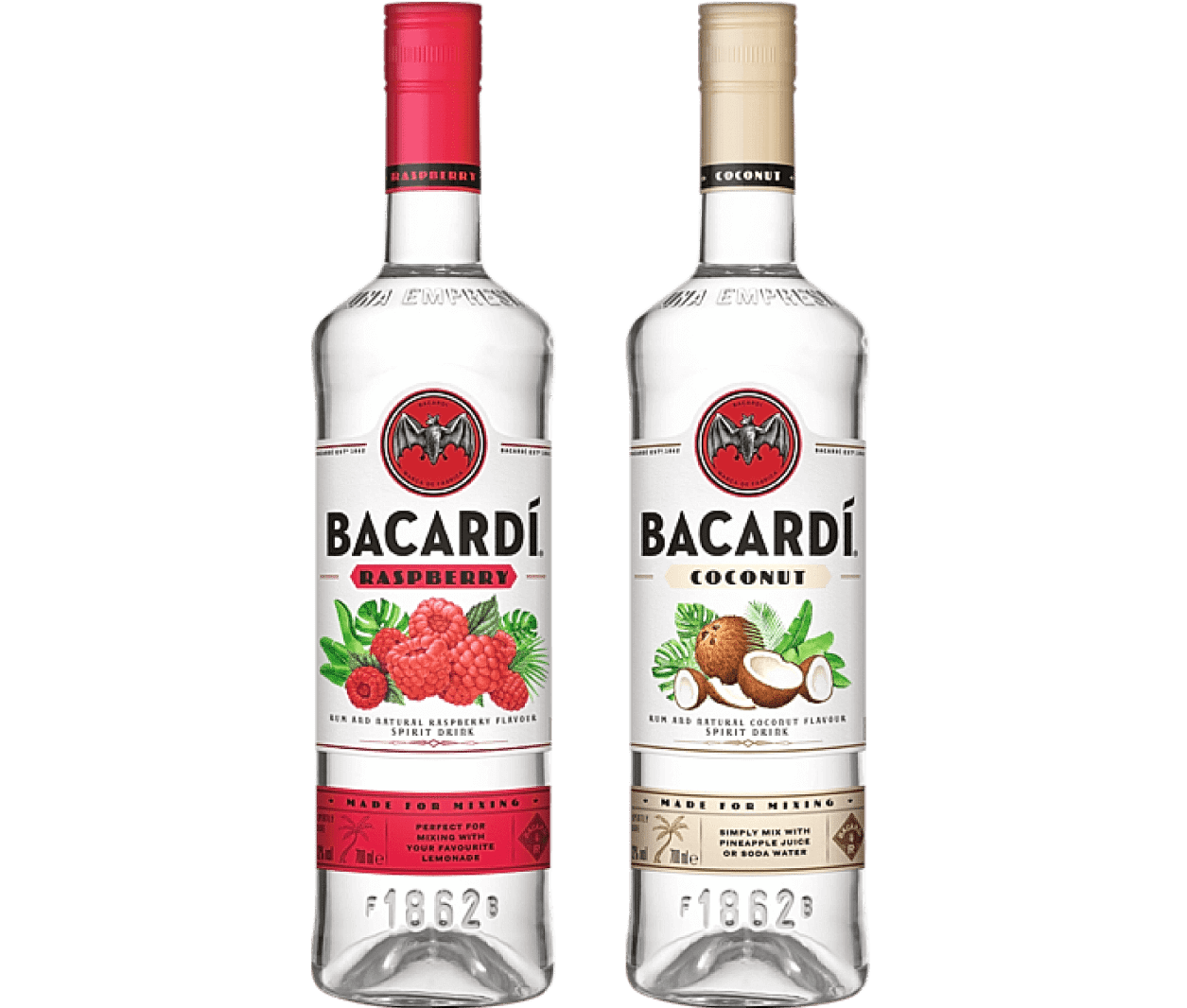 The flavours range
BACARDÍ's flavoured rums offer a unique twist on the original BACARDÍ and the cocktails you can create. Try BACARDÍ Raspberry for a tangy take on a Mojito or keep it refreshing with a simple mixer like soda. Not surprisingly, BACARDÍ Coconut makes an excellent Piña Colada and pairs well with cola.
The flavoured rum range includes BACARDÍ Coconut and BACARDÍ Raspberry.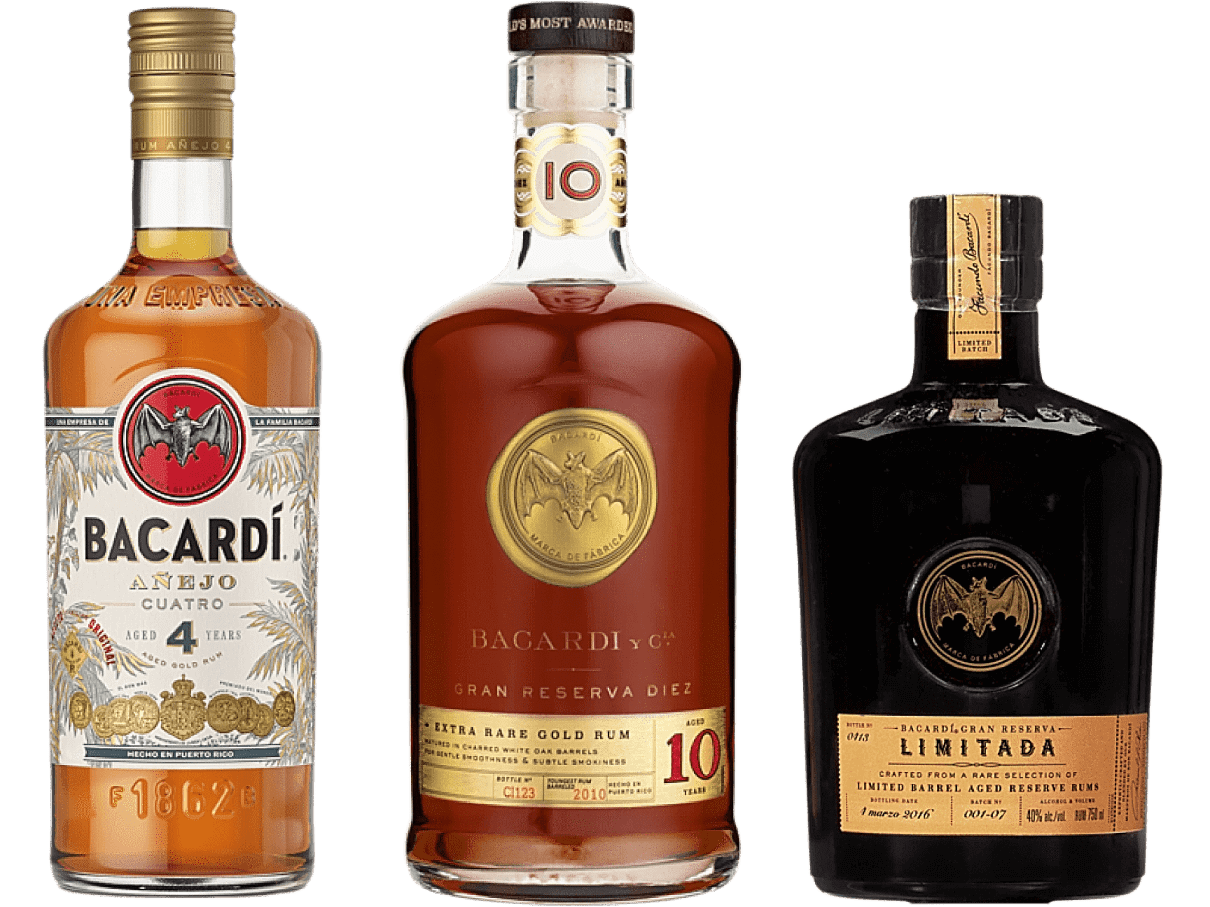 The Premium range
Each rum in our Premium collection has been barrel-aged under the Caribbean sun. You'll find the barrel-age of each rum marked on the bottle – each year worth the wait, as it's what helps to define the rum's delicious notes and character. From elevating cocktails to smooth sipping rums, our premium range is best savoured with friends.
This range includes BACARDÍ Añejo 4, BACARDÍ Reserva Ocho 8, BACARDÍ Gran Reserva 10, and BACARDÍ Gran Reserva Limitada.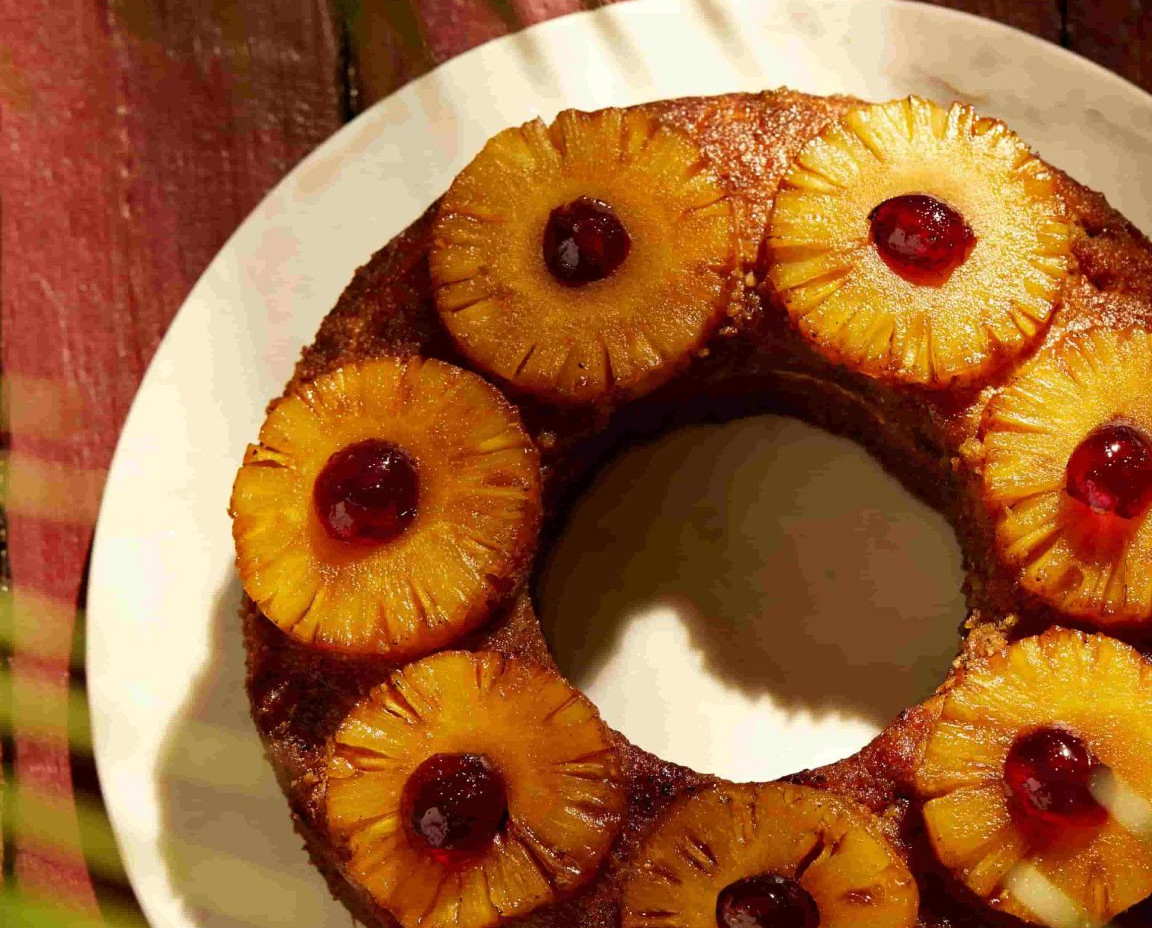 BAKE IT RUM STYLE
Have you heard about the famous BACARDÍ rum cake? Well look no further, this tasty number is one special treat for rum and dessert-lovers everywhere. BACARDÍ rum adds delicious depth and flavour to a velvety sponge, topped with pineapple, cherries and a rum-butter glaze. A timeless classic you'll want to toast and for that, we suggest BACARDÍ Ocho on the Rocks.
MIXING WITH THE BEST
Looking for something to mix your rum with? BACARDÍ Rum is famously versatile and can be mixed with almost anything. Those looking for something sweet and simple should grab some fruit juice and try a Jungle Bird. If you're envisioning a balmy night in the tropics you might want to use some Lime juice to create a Daiquiri. For a good old-fashioned tingle in the tastebuds then bring out the ginger beer and try your hand at a Spiced Mule. And if you just fancy something tried, tested and loved across the world, then pour yourself a Rum and Cola. There's plenty more refreshing inspiration over on our Cocktail page, or have a go at mixology yourself with our virtual classes.
ALL GOOD THINGS COME TO AN END
Unopened bottles of rum can last decades and decades. Opened bottles, on the other hand, have a recommended drink-by date of around six months. The rum doesn't spoil after this time, but the flavour profile we've crafted changes with the introduction of oxygen.
BACARDÍ is proud to have so much family history embedded into its DNA.
THE BACARDÍ LOW‑DOWN
It all started back in 1862 when Don Facundo Bacardí Massó bought a small distillery in Santiago de Cuba. While it was Facundo's dream to make a smooth, light-bodied rum, it was his wife, Doña Amalia, who suggested adopting the bat as the symbol of BACARDÍ. Fast forward 150 years and BACARDÍ is still a proud family-owned company to this day.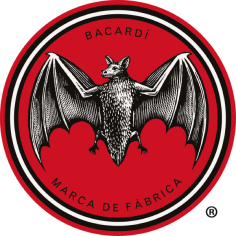 4 BONUS FACTS TO DISH OUT AT YOUR NEXT DINNER PARTY:
Rum is believed to have been invented during the 17th century.
Sir Francis Drake used Rum to create a drink called 'El Draque' that was supposed to help prevent scurvy because of the vitamin C found in the Lime.
The largest rum distillery in the world is our very own Casa BACARDÍ which produces 100,000 litres every day. And you can visit!
The most exclusive bottle of BACARDÍ was created for our 150 year anniversary and was crafted by 8 master blenders – all Bacardí family members. Blended with incredibly old and rare rums from the family's private reserves, it was sold for $2,000.
Congratulations! You're now a certified rum aficionado.
RELATED CONTENT
EXPLORE BACARDÍ