Casa BACARDÍ Puerto Rico recycle glass bottles,
which are used to create cement blocks!
Glass can take over four thousand years to biodegrade. That's why Casa BACARDÍ is committed to sustainability efforts. Click the video to watch the story!
A PUERTO RICAN SEEKS TO WIN
BACARDÍ LEGACY COCKTAIL COMPETITION
After intense months developing the concepts and stories behind their drinks and marketing them through different social platforms, the four finalists (of 40 who showed up in the first stage of the competition); Nicole Fas (La Coctelera), Carlos Irizarry (La Factoría), Jonatan Meléndez (Santaella) and Nabil Revan (La Factoría) agree that Bacardi Legacy has served as a forum for professional growth.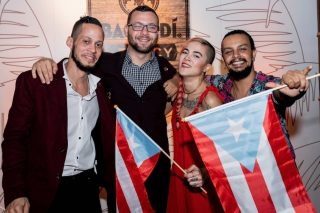 UNITED FOR PUERTO
RICO CONCERT
It was an honor to host the United for Puerto Rico live concert telethon. The first big gathering post-Hurricane Maria brought together 20,000 people at Casa BACARDÍ to celebrate that in Puerto Rico, we never give up. Over $4 million were raised to support relief efforts.Together, #PuertoRicoSeLevanta
LEGACY COCKTAIL
FINALISTS
So much fun to receive the finalists of the 2018 BACARDÍ Legacy Cocktail competition from the U.S.A. and Canada. Check out a recap of their time at the distillery, meeting with our Master Blender Joe Gomez and tasting BACARDÍ premium rums on site where they were crafted.
WHY DON'T WE
USE STRAWS AT
CASA BACARDÍ?
Did you know that Bacardi was the first spirits company to eliminate straws from their cocktails? Our no-straws movement began in March 2016 as part of our commitment to sustainability. Click to learn more about how such a small item can have a big impact. We can each make a difference!