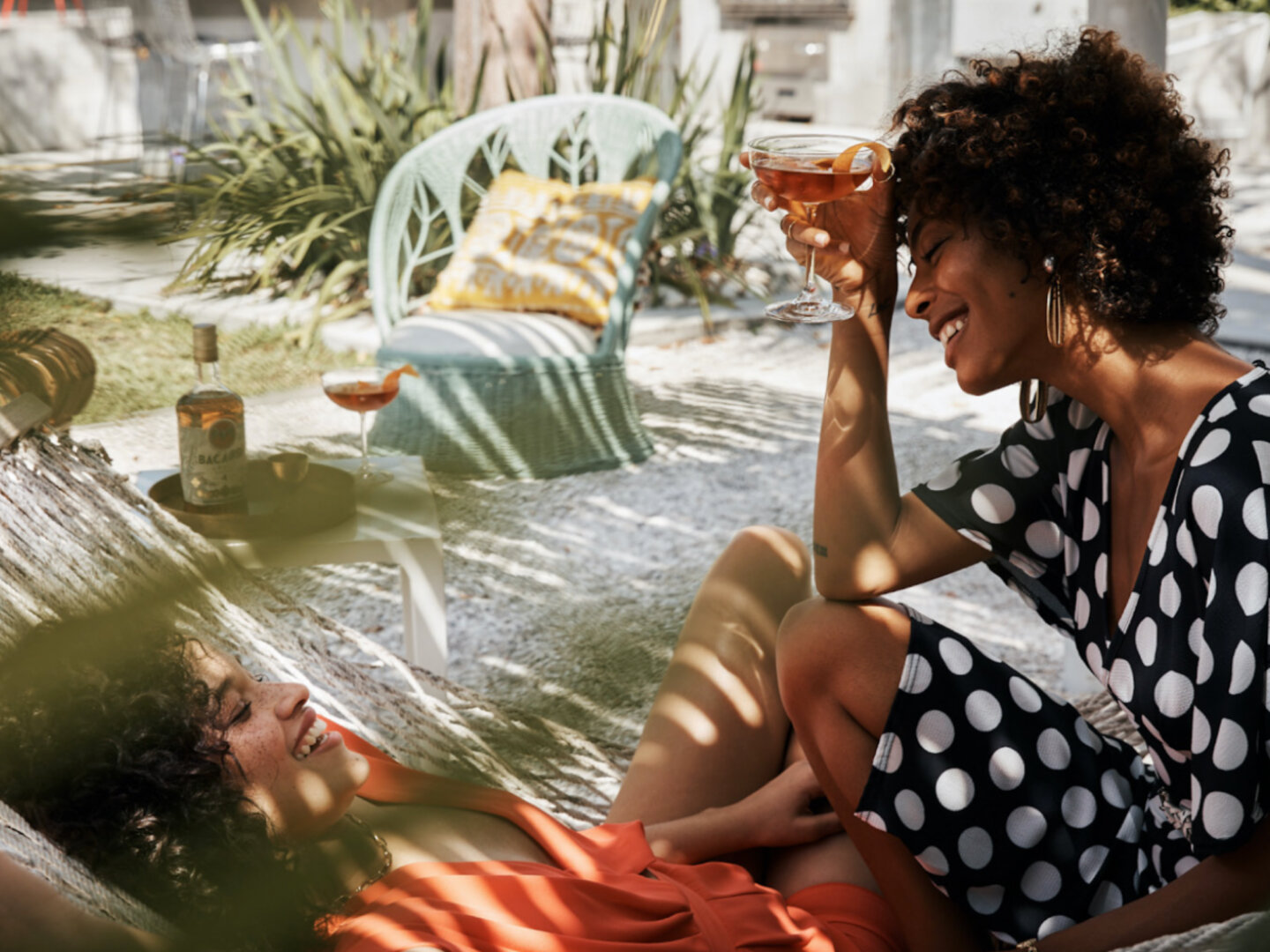 FAQs
RUM
Rum is made using only three ingredients: molasses from sugarcane, yeast and water. Ingredients are fermented, then distilled, aged, filtered and blended.
Rum can be aged anywhere from one year upwards. Aging rum can add additional complexity to its flavor and mouthfeel.
Dark rum can be found black, brown and red in appearance and is usually, but not always, aged longer than gold or white rum. It often indicates a more intense flavor profile, and is also delicious when used in cooking.
What is the difference between dark, gold and white rum?
Rum is a wonderfully complex and diverse spirit. Color can give us clues about time spent aging or the flavors that might be found within. Dark can be bold, sweet (or dry) and even smoky, gold is rich and soothing, and white is smooth, subtle and often refreshing.
But color can be misleading. The best way to truly understand a rum is to taste it for yourself.
Is spiced rum the same as gold rum?
No, spiced rum typically has added spices and flavorings to give it a bold, unique flavor, whereas gold rums tend to be more mellow.
White rum is usually a light-bodied variant with a soft, sweet taste. It's often used in light refreshing cocktails, especially favorites, like the Mojito and Daiquiri.
Gold rum, also known as amber rum, usually provides rich and smooth flavors after being aged in barrels.
Spiced rum is often aged for as long as dark rum, but has added spices and caramel coloring. It usually carries a bold, yet smooth taste.
For a timeless rum drink , we would recommend the classic; the Mojito. An ice-cold glass of refreshment that brings out those delicate flavour notes of BACARDÍ rum while beautifully harmonising with the citrus of lime and the freshness of mint.
Combining science with art, our founder Don Facundo Bacardí Massó used only three ingredients: molasses from the best sugarcane in the world, a unique strain of yeast and local spring water that when combined with his pioneering process, give those famous flavours and characteristics synonymous with BACARDÍ today.
BACARDÍ rum starts with the high quality molasses sourced from around the world. It's a thick, dark and sweet syrup that is left over after a three stage sugarcane refining process, resulting in the molasses containing less sugar, but still holding the sugarcane sweetness and concentrated flavours of the naturally occurring vitamins and minerals.
Absolutely yes you can!
Those smooth, bold, caramelised and smokey flavours don't just belong in mixers alone – they can be used to spice up your culinary creativity too.
It 100% is, so everyone is happy!
Well it turns out you can have your cake and eat it. Take deliciousness to a whole new level with our BACARDÍ rum cake and rum butter glaze.
PRODUCT DETAILS
How long is BACARDÍ Gran Reserva Diez aged for?
This rum is aged for at least 10 years.
If stored correctly, rum will last a number of years. Ensure It's tightly sealed so the flavor doesn't escape, and keep it in a cool, dry place to preserve its integrity.
How many calories are there in rum?
A single 25ml measure of a 40% alcohol by volume rum contains approximately 61 calories. That's if you were sipping it neat. Mixing it will add further calories depending on the other ingredients.
COCKTAILS
What type of rum goes in a Cuatro Highball?
The Cuatro Highball cocktail is made with BACARDÍ Añejo Cuatro gold rum, aged in the Caribbean sun for four years.
What is a highball cocktail?
If you're having a highball cocktail, it means it's made from an alcoholic spirit with a larger amount of a non-alcoholic mixer.
What type of rum goes in a daiquiri?
The traditional daiquiri is made with white rum, but you can opt for a dark rum to create a cocktail with deeper notes, or perhaps a gold rum for warmer flavors. Try to balance sweet and sour for the best results.
What type of rum goes in a mojito?
Did you know, the first ever mojito called for BACARDÍ Superior white rum? It's truly a timeless classic. You can also experiment with gold and flavored rums for a unique twist.
How do you make a strawberry mojito?
To make a strawberry mojito, simply add fresh strawberries to your glass and press down gently to release some juice.
What type of rum goes in an old fashioned?
While the traditional old fashioned cocktail uses whiskey, we find that BACARDÍ Reserva Ocho rum works best to add exciting Caribbean tastes.
What type of rum goes in a piña colada?
While the classic piña colada is made with white rum, you can always experiment with different flavors. Try a gold rum to bring a bit more warmth, or a spiced rum for a unique cocktail.
Where was the piña colada invented?
The piña colada hails from San Juan, Puerto Rico, invented by a bartender named Ramón "Monchito" Marrero who used BACARDÍ white rum.
What type of rum goes in a rum and cola cocktail?
Usually, rum and cola cocktails use a light white rum that's great for mixing, such as BACARDÍ Superior.
What kind of cola should I use in a rum and cola cocktail?
You can use any kind of cola in a rum and cola cocktail, as long as your taste buds fancy it!
What is the best cocktail for Halloween?
Although it doesn't look or taste horrifying, the Zombie cocktail is the most appropriate for the spooky season because of its name. It sure packs a punch though, so limit your intake.
CASA BACARDÍ
What is the history tour at Casa BACARDÍ?
Much has happened since BACARDÍ was founded in 1862. Discover more about the Bacardi family, how they survived the different challenges each era brought and the significance of bats.
Are you open all year round?
For the most part, yes, except for three major holidays: Christmas Day (December 25th), New Year's Day (January 1st) and Three Kings Day (January 6th).
Can I visit without booking an experience?
Yes! You can grab a bite from our delicious food kiosk, do some shopping at the Bacardí Store or just relax and enjoy the breathtaking views while sipping on a delicious and refreshing cocktail at the Pavilion.
What is the best way to get to Casa BACARDÍ?
There are multiple ways of getting here, but we recommend our Old San Juan Ferry and Shuttle Service, bookable via the Casa BACARDÍ website. Taxi or Uber are also good options.
As of yet, we do not have a sit down restaurant, however right off the Pavilion, you can find our food kiosk El Cuchifrito, serving a variety of local Puerto Rican finger food.
Yes, we have wifi available all throughout the distillery.
Are your facilities ADA compliant?
Yes, Casa BACARDÍ is fully accessible.
Are children allowed on the premises?
Minors under 18 are allowed at our premises but must be accompanied by an adult at all times. Minors are not allowed to participate in the experiences.
Is CASA BACARDÍ pet friendly?
We love our furry friends! However, we only allow service animals on our premises.
Can I host an event at Casa BACARDÍ?
Yes, Casa BACARDÍ is available for events. For more information contact us at eventspr@bacardi.com or submit your event request here:
Where do I go when I arrive?
Once you arrive, you can go directly to our Pavilion, where one of our hosts will welcome you and assist with the check-in process.
What happens if I am late to the tour?
We suggest arriving at least 30 minutes before the start of your tour. Guests who arrive past their scheduled check-in time are not guaranteed entry to the experience.
Do you accommodate group requests?
Yes! For assistance contact us at casabacardi@bacardi.com or at 787-788-8400.
Do you offer sign language tours?
We do not currently offer sign language services or experiences.
What should I wear on the tour?
We suggest dressing comfortably and checking the local weather report before visiting Casa BACARDÍ.
Can I have a private tour?
For private experiences contact us at casabacardi@bacardi.com or at 787-788-8400.
What forms of payment are accepted?
We accept all major credit cards. Although we do not accept cash payments, we suggest bringing cash in case you would like to tip our bartenders.
Can I buy items from your shop now to be picked up when I visit?
Yes, we offer curbise pickup. You can take a look at our online shop here:
What is your cancellation policy?
Reservations must be modified or cancelled up to 48hrs before your scheduled experience.
Products (out of production)
What's happened to BACARDÍ 151?
We made the tough decision to stop production of BACARDÍ 151 back in 2016 to allow us to focus on new ways to innovate and enjoy rum.
What happened to BACARDÍ Banana rum?
What happened to BACARDÍ Grapefruit rum?
Mojito
A mojito is a rum cocktail mixed with lime, mint, sugar and soda water that perfectly demonstrates the joy BACARDÍ can bring. It's the classic of classics, so if you're new to rum, start here.
Daiquiri
A daiquiri is a rum cocktail mixed with lime and sugar. Simple ingredients elevated by using BACARDÍ. You'll be by the pool in no time.
A daiquiri is typically served in a chilled coupette glass.
Mai Tai
A mai tai is a rum cocktail made with sugar syrup, orange bitters and lime juice, and garnished with mint, orange and lime. A taste that's out of this world, as the name translates in Tahitian.
BACARDÍ
BACARDÍ is a rum brand established in 1862 that has been producing world-class rums since. Our history is rich, and hunger for continued innovation in the industry never ceases.