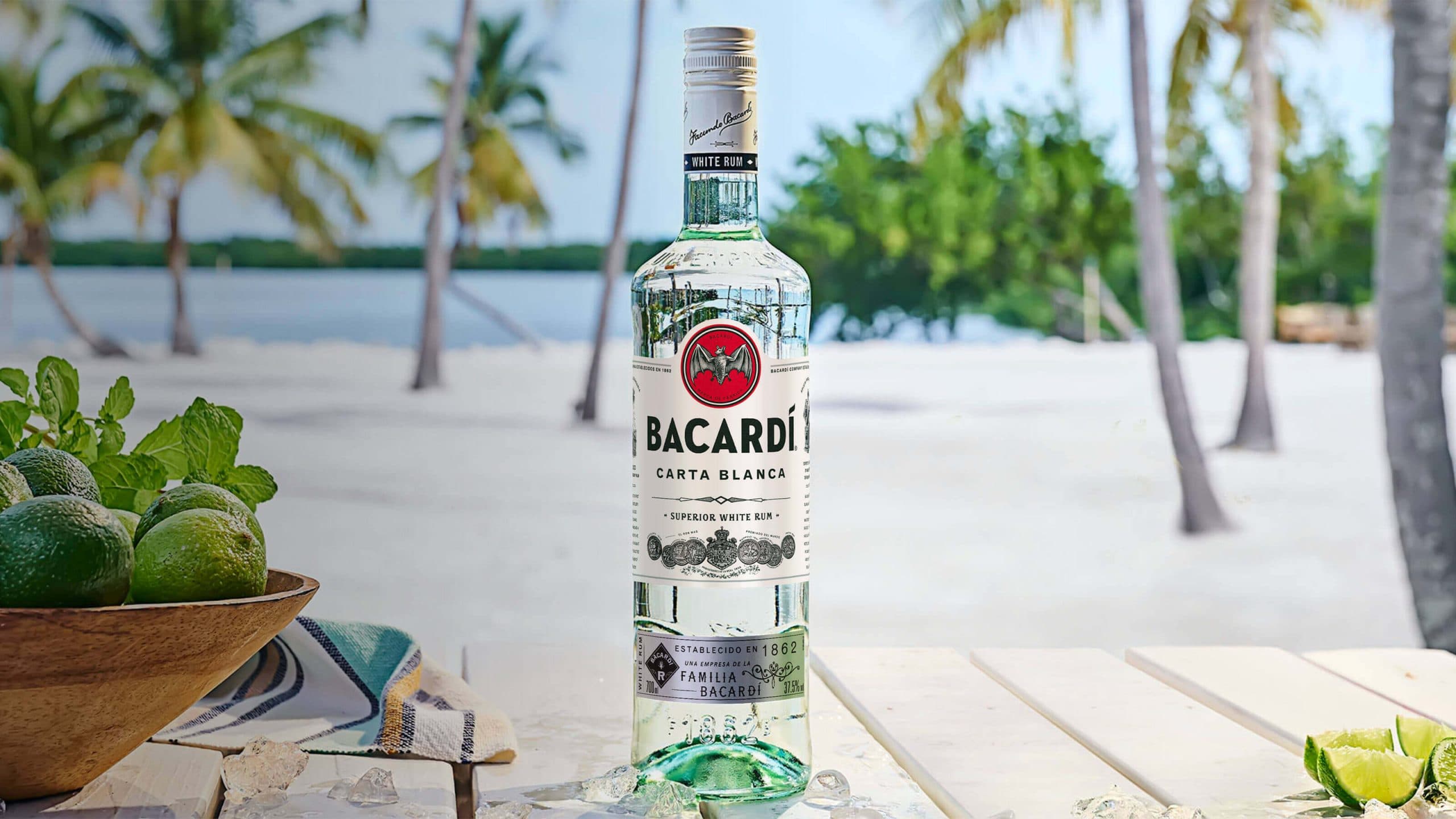 BACARDÍ WHITE RUM
WHAT'S THE DIFFERENCE BETWEEN WHITE, LIGHT AND SILVER RUM?
A white rum white like BACARDÍ Superior can also be known as a light rum or silver rum – you might have heard the bartender asking you if you would like a "light rum" mixer, or a "white rum drink" or even a "silver rum cocktail" – these are all white rum drinks.
WHY DOES BACARDÍ WHITE RUM TASTE DIFFERENT TO OTHER WHITE RUMS?
BACARDÍ Superior inspired a cocktail revolution as the first mixable rum.
In 1862, after 10 years of perfecting his rums, our founder Don Facundo Bacardí Massó introduced the world to his BACARDÍ Superior rum. A sublime rum for cocktails, it doesn't dominate other flavors nor does it disappear when mixed. It's perfect for classic rum cocktails like the Mojito.
Don Facundo was the first to purposely age his rum bases to develop specific flavor profiles to blend together (a process that had been commonly used in European dark spirit such as whiskies and brandies). This resulted in a BACARDÍ rum house style that is very well-balanced and light within its category.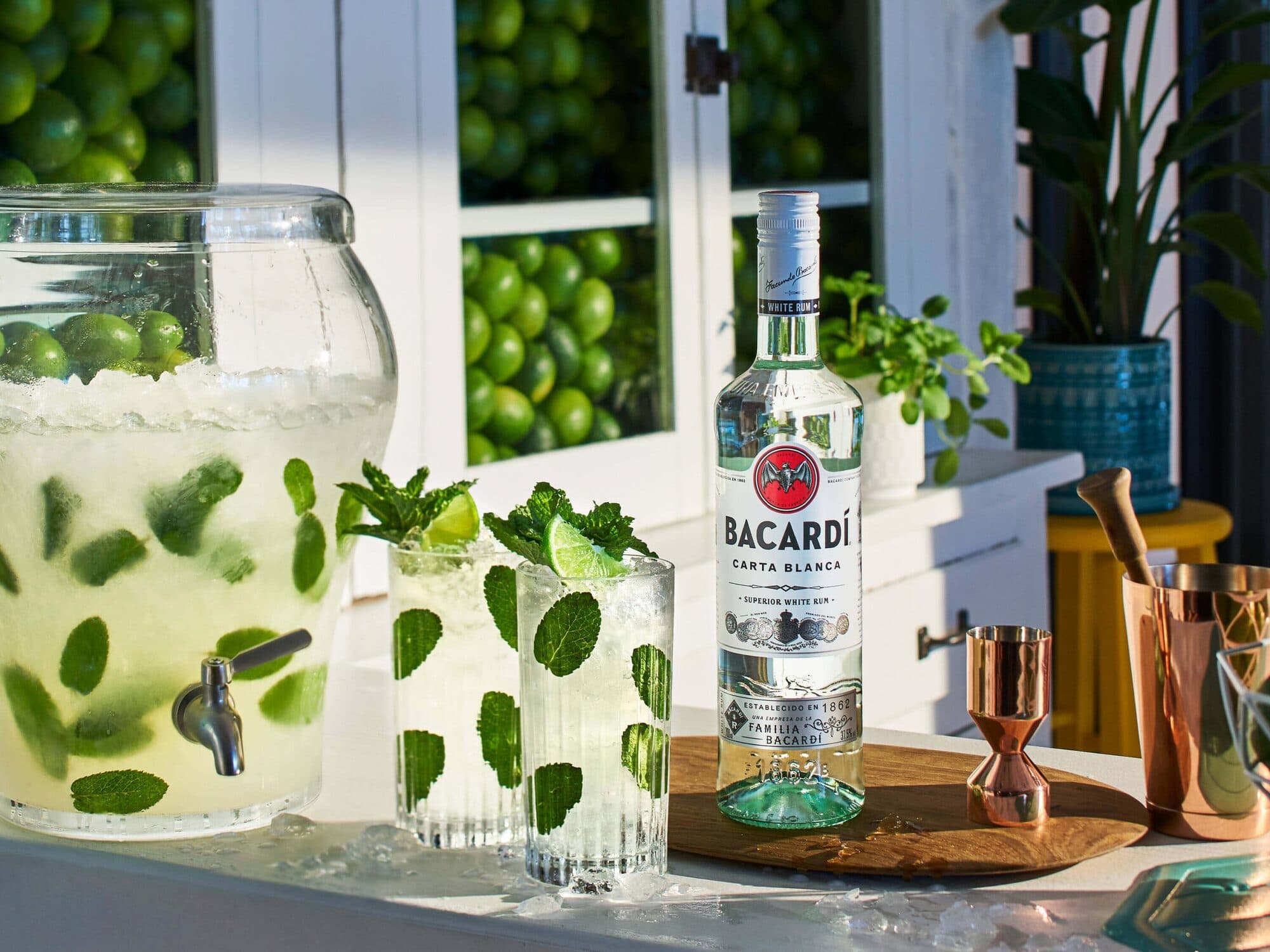 WHAT DOES WELL-BALANCED MEAN?
Within each BACARDÍ rum variant, there is no single dominant flavor
note that overpowers the others.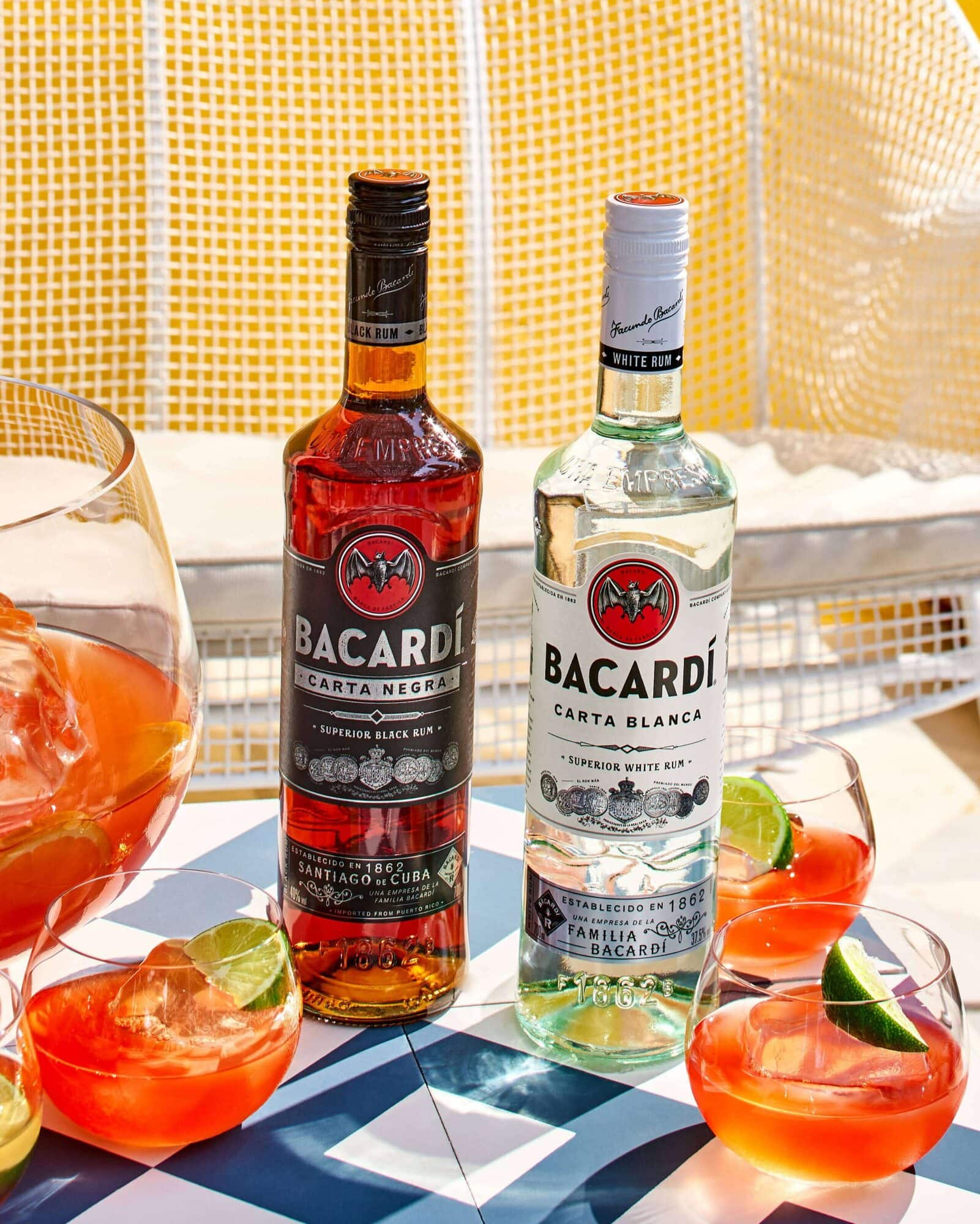 WHAT DOES LIGHTNESS MEAN?
The BACARDÍ house style produces rum variants that are lighter, sophisticated,
elegant, and easier to drink than other rums in their category.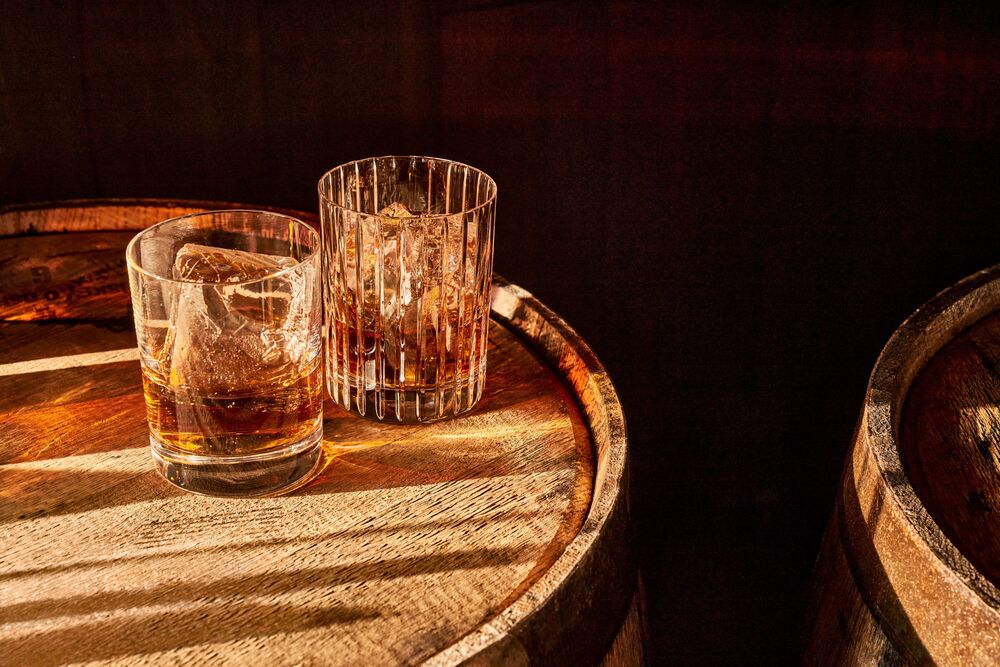 CRAFTED WITH PASSION USING WHITE OAK BARRELS.
BACARDÍ uses what is known in the industry as 'once-used American whiteoak barrels' from the American Whiskey and Bourbon industry. This means that the barrels have been used previously only one time which helps to remove the
'new wood' flavor. American white oak is used due to its strength, durability and porosity.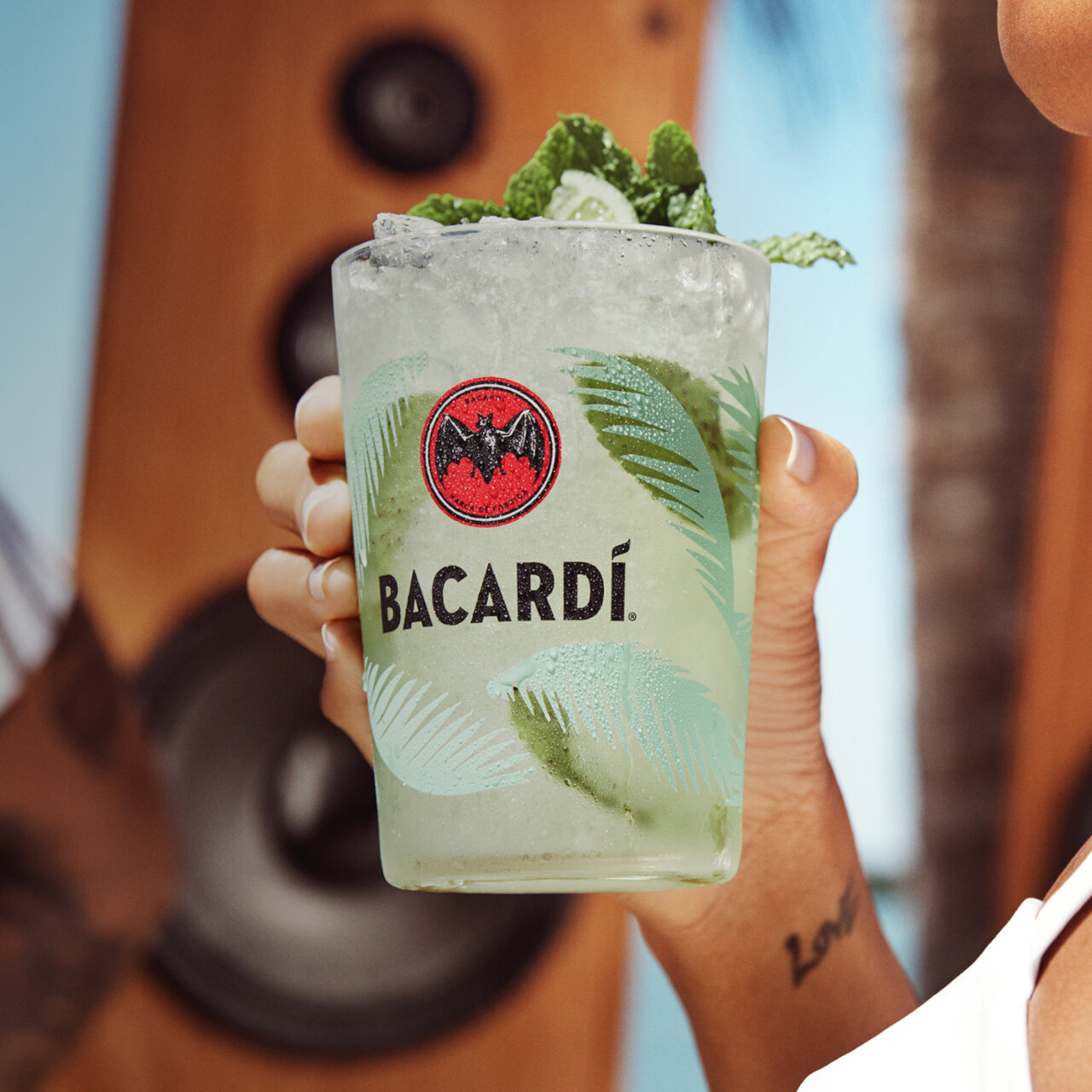 WHAT MIXES WELL WITH WHITE RUM?
BACARDÍ Superior is a light and aromatic white rum with delicate floral and fruity notes,
ideal for mixing into white rum drinks, silver rum mixers and light rum cocktails – like the classic Mojito.
DRAG TO DISCOVER MORE
BACARDÍ COCKTAILS
WHITE RUM CREATIONS
Enjoy an endless sunset with BACARDÍ Superior in your glass. Surprise your friends, or keep it classic – and keep the good vibes going.
EXPLORE THE A-Z OF BACARDÍ RUM COCKTAILS
From Air Mail to Zombie, do you know your BACARDÍ alphabet? Take a look at our range of rum cocktails
MERCHANDISE
GET KITTED OUT
Buy Glasses. Squeezers. Cocktail kits. Discover everything you need to create standout BACARDÍ cocktails.
Dark rum can be found black, brown and red in appearance and is usually, but not always, aged longer than gold or white rum. It often indicates a more intense flavor profile, and is also delicious when used in cooking.
WHAT IS THE DIFFERENCE BETWEEN DARK, GOLD AND WHITE RUM?
Rum is a wonderfully complex and diverse spirit. Color can give us clues about time spent aging or the flavors that might be found within. Dark can be bold, sweet (or dry) and even smoky, gold is rich and soothing, and white is smooth, subtle and often refreshing.
But color can be misleading. The best way to truly understand a rum is to taste it for yourself.
Rum is made using only three ingredients: molasses from sugarcane, yeast and water. Ingredients are fermented, then distilled, aged, filtered and blended.