You are reading
Mojito moments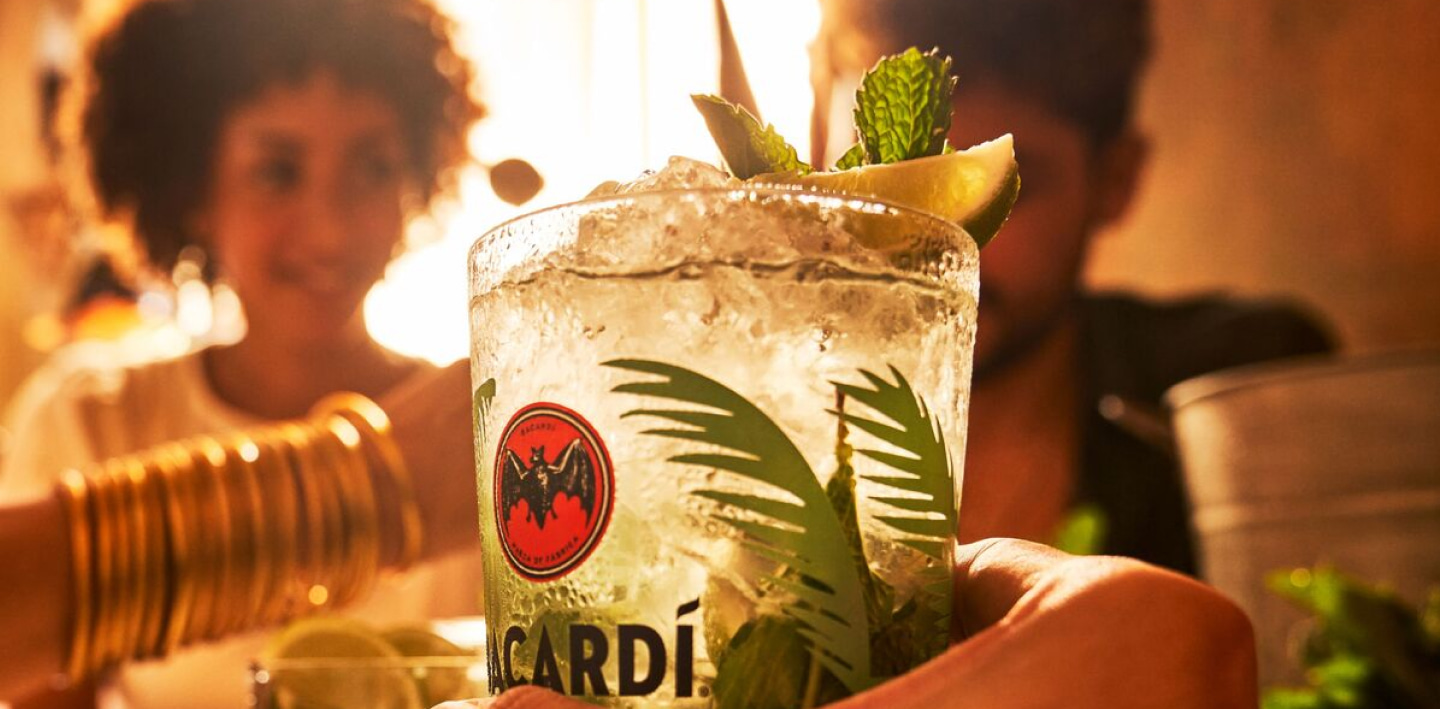 Editorial
Mojito
moments
5 min read
Recipes to mix it up
on World Mojito Day
Whether you're on the beach or at the bar, the Mojito is the perfect companion for any celebration.

We wanted to share some fresh ways to make one of our signature cocktails, so you can be ready to cheers to World Mojito Day on July 11th. But before we delve in, let's go back to the beginning…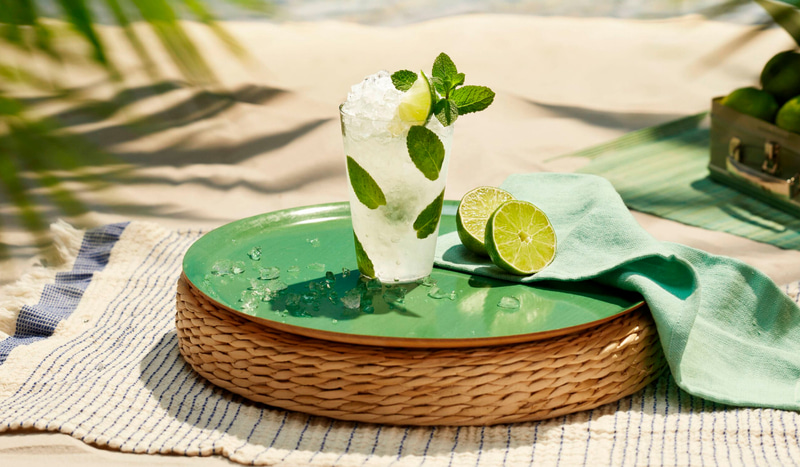 THE BEGINNING OF THE MOJITO
All classics have an origin story and the humble Mojito is no different. Known as the 'unofficial national drink of Cuba', it was first seen published in the iconic cocktail book La Ley Mojada by Spanish bartender Pedro Chicote in 1930 – a time when prohibition meant alcohol was forbidden in the U.S.
Drinks tourism was huge in Cuba as a result, and the hot weather and sunny vibes were instrumental in shaping the Mojito we know and love. The refreshing mint of the popular Mint Julep combined with the rum, sugar and lime required for a Daiquiri lay the foundation, and an extra spritz of soda transformed it into the perfect long drink for keeping cool in the heat.
Since then, it's become a world-renowned cocktail – used to celebrate big and small occasions. As Ernest Hemingway once said, "it wasn't just a drink; it was a symbol of national pride." We'll certainly toast to that.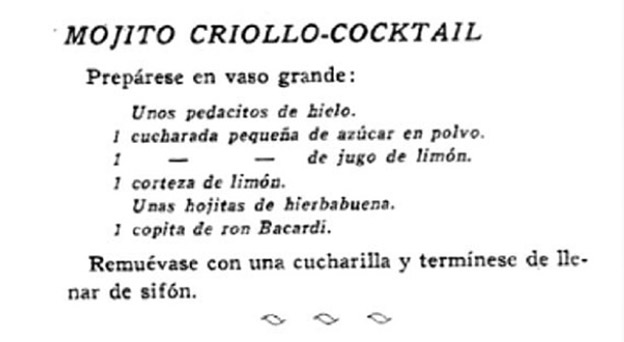 "It wasn't just a drink; it was a symbol of national pride."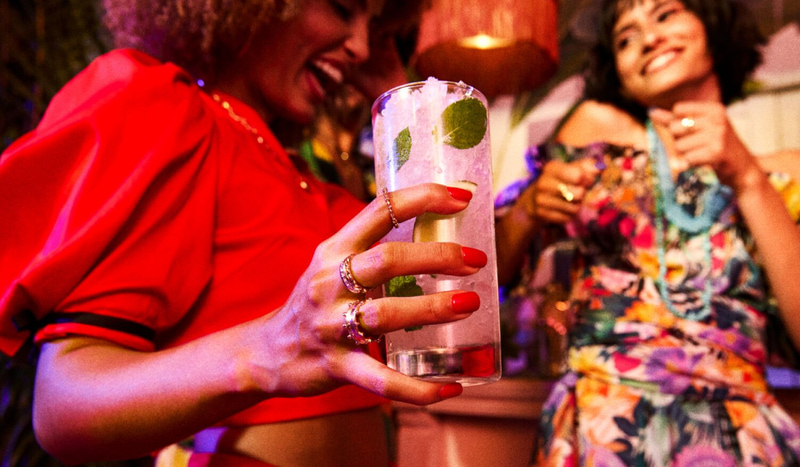 THE ORIGINAL
The Original BACARDÍ Mojito is the champion of warm nights and sunny days. Simply add some BACARDÍ Superior rum to the cool, crispness of freshly squeezed lime and mint on ice and you've got the perfect drink for sunny moments.
INGREDIENTS
50ml BACARDÍ Superior
25ml Fresh lime juice
25ml Soda
15ml 1:1 sugar syrup or 2tbsp caster sugar
Small handful of mint (8-14 leaves depending on size)
METHOD
Step 1 – Add
Add BACARDÍ Superior, lime juice, soda, sugar and mint to the glass.
Step 2 – Press
Press mint with bar spoon to release oil, leave spoon in the glass.
Step 3 – Churn
Add crushed ice, almost to top, churn.
Step 4 – Garnish
Slap the garnish on the top of the glass (2 leaves minimum) before placing it in, it's the aroma that makes this drink standout.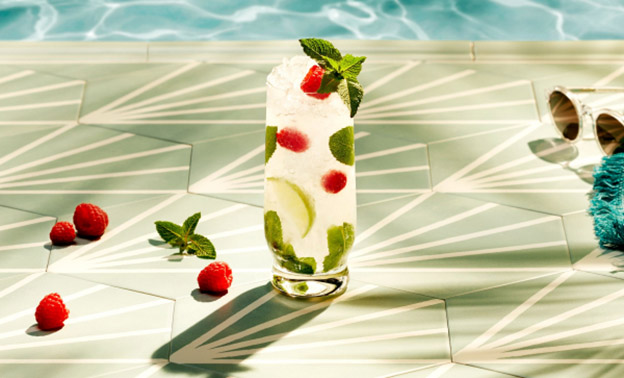 MIX IT UP
What's life without Mojito variation? For those looking for a new twist, try the Raspberry Mojito – a combination of fresh raspberries, mint and our delectable BACARDÍ Raspberry rum. Wanting a lighter version? Then the skinny Mojito with its lower calorie intake might be your thing.
Hanging out with a bunch of friends? Group serve for the winner.
Maximum flavor with minimal alcohol? We've got you. The Lojito (half a measure of BACARDÍ Superior) and Nojito (no rum at all) will certainly hit the spot without compromising taste. Whatever the celebration is, there is a Mojito for everyone to enjoy.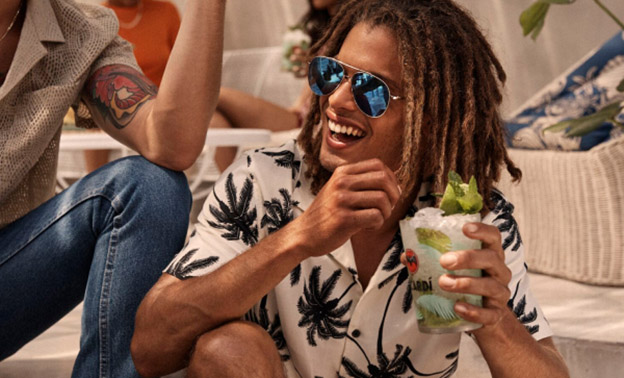 KEEP IT CLASSIC
But as they say some things are best left as they are, so feel free to enjoy the Mojito in its classic form. If you do want to add a personal touch – why not grow your own mint ahead of time.
related content
EXPLORE BACARDÍ