You are reading
Get Picnic-Ready with BACARDÍ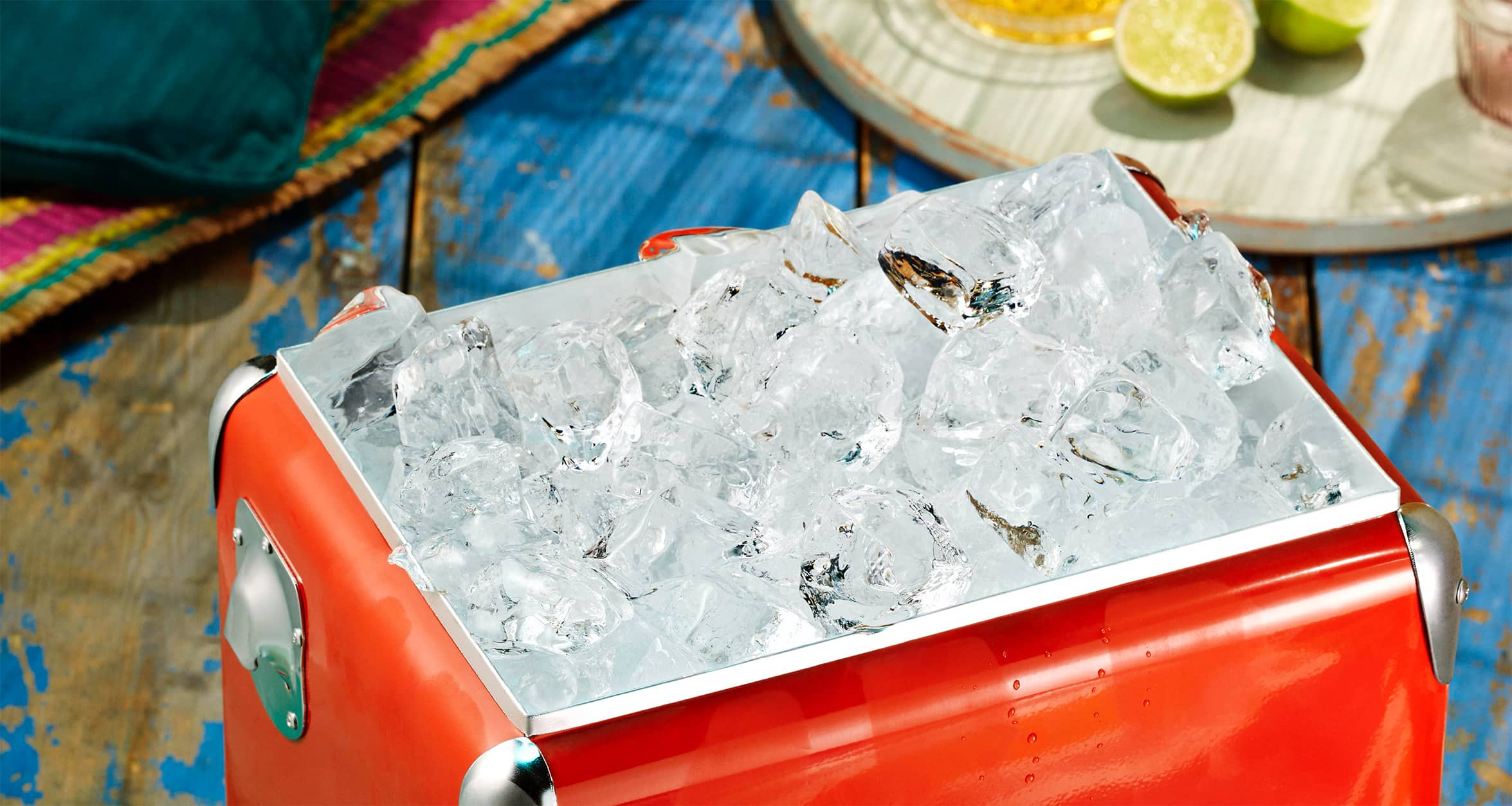 Occasion
Get Picnic-Ready
with BACARDÍ
5 min read
Tips and tricks for the ultimate summer eat out
The sun is shining, your crew is ready, and the day is bustling with fun summer vibes. Take advantage of it all – it's time to gear up for the perfect picnic. Here are our best tips and tricks to get you out the door and into the sunshine, cocktails in hand. Salud!
START WITH THE ESSENTIALS
Planning your picnic cocktails is an event in itself; which ones should you make? How can you keep them cold? What's something everyone will like? Can you even carry it all?
Here's our quick start guide to choosing the best picnic drinks, from the super easy to the showoff.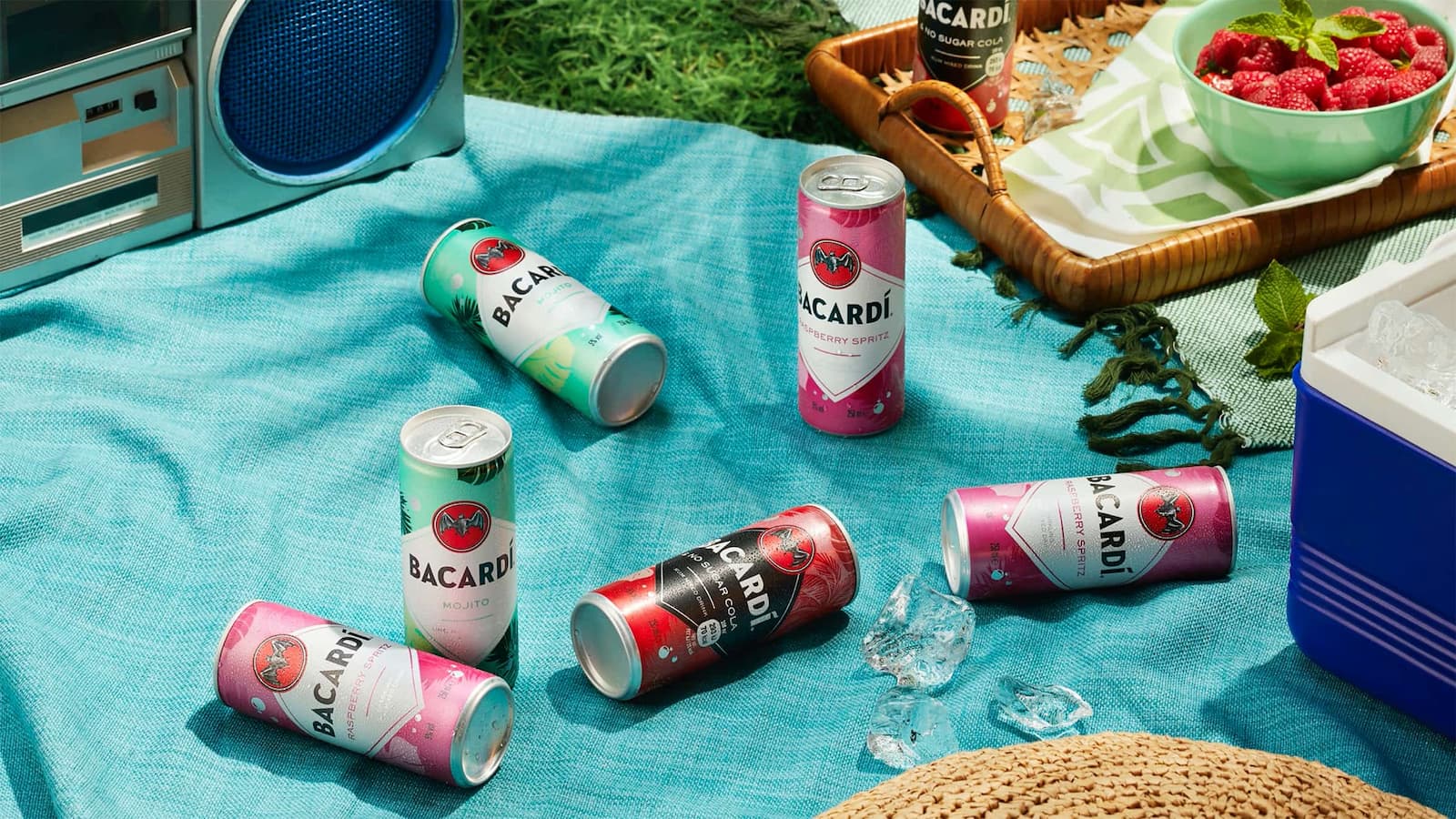 COCKTAILS IN A CAN
Whether you're on-the-go or just want to cut the hassle these cocktail cans do the trick. They're as no-nonsense as it comes. Keep in the cooler and pull them out when the moment strikes for instant refreshment – no mixing necessary.
CHECK OUT THE RANGE
LIME AND SODA – Crack open this fizzy lime favorite.
LIMON AND LEMONADE – Brace the bold flavors of lemon and grapefruit.
RUM PUNCH – Taste the beach in a can with pineapple, sweet orange, mango and passion fruit.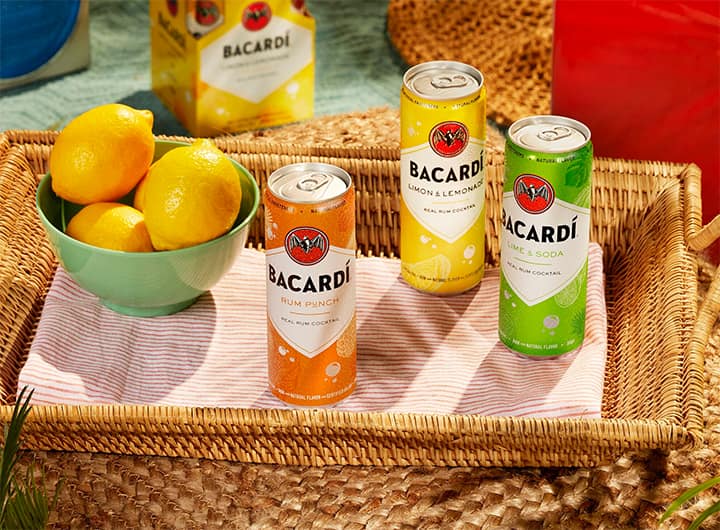 JUST ADD ICE
Time to take it up a notch? Why not pick up one of our ready mixed bottles. Simply pour over ice and serve. No need to mention it's not homemade – we won't tell!
CHECK OUT THE RANGE
BAHAMA MAMA – Taste this tangy treat with exotic tropical fruits and cane sugar.
HURRICANE – Get a citrusy kick from passion fruit, orange, lime and cherry.
RUM PUNCH – Savor the sweetness of pineapples, mangoes and passion fruit.
MOJITO – Refresh your taste buds with cool lime and mint flavors.
ZOMBIE – Invite crispy citrus, triple sec and passion fruit to dance in your glass.
ISLAND TEA – Kick back with the fresh flavors of iced tea and cane sugar.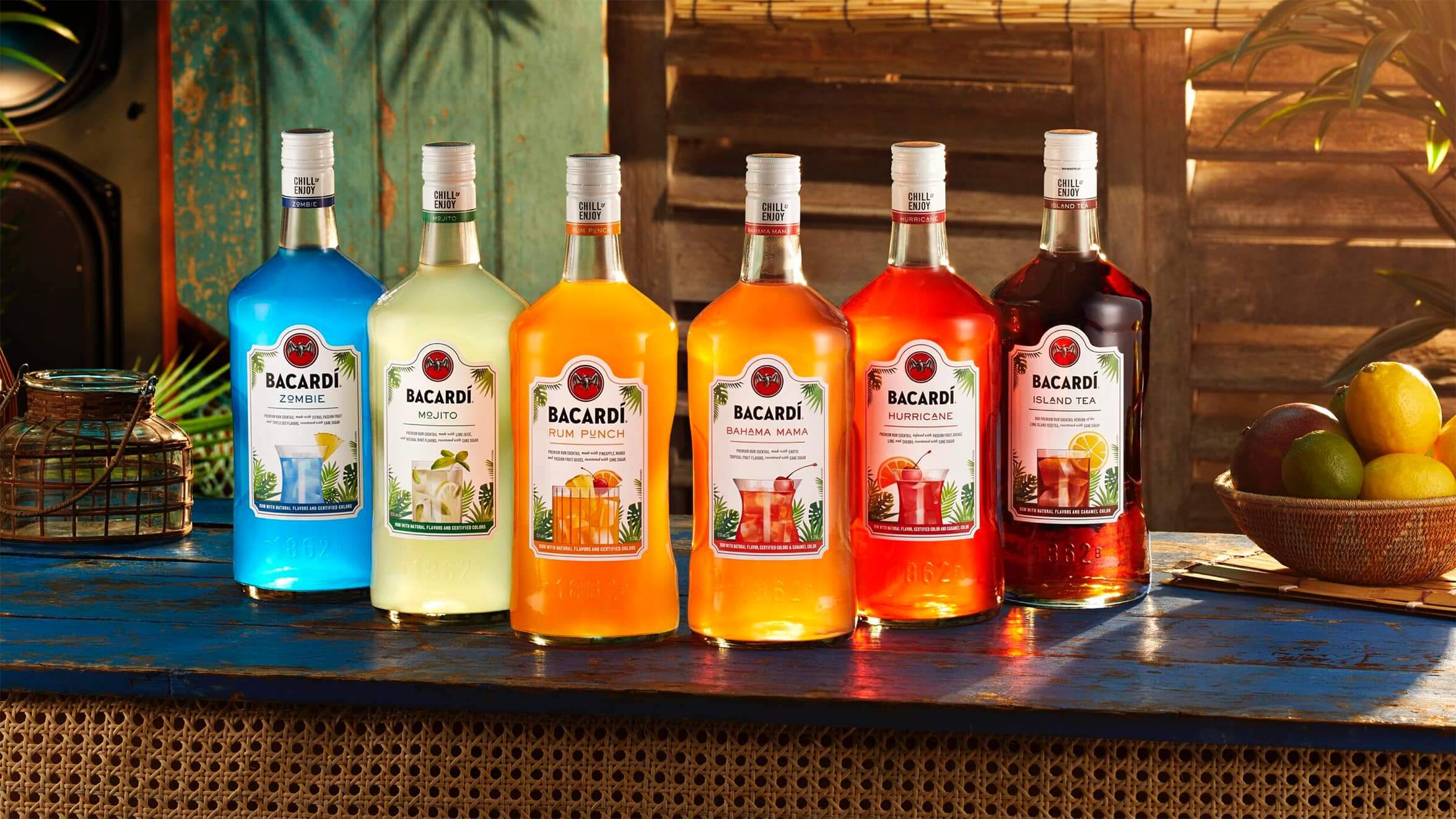 MIX IT YOURSELF
Looking for something a little more homemade? These recipes are easy to take along and will get you out the door in no time. Just store them in your cooler and you're good to go. They're real crowd pleasers!
EASY COCKTAILS
RUM AND COLA – Easily mix white or spiced rum with your favorite cola
COCONUT AND PINEAPPLE – Make an easy, classy alternative to a creamy Piña Colada.
BACARDÍ LIMONADE – Sip on this for citrusy summer dreams.
AS COOL AS ICE
If you're up for a challenge, these mixologist-worthy cocktails are well worth the effort. They require a bit of preparation but are guaranteed to create smiles all around. Freeze these cocktails ahead of time in a bottle and keep them in the cooler when you take them with you. Give them a good shake when you arrive and serve!
FROZEN COCKTAILS
FROZEN PIÑA COLADA – Indulge in creamy coconut and pineapple, the perfect tropical treat.
FROZEN STRAWBERRY DAIQUIRI – Cool down with frozen strawberries reminiscent of a decadent smoothie.
FROZEN DAIQUIRI – Satisfy your cravings for something both sweet and sour.
"From the beach to the park to the forest – enjoy your favorite cocktails anywhere."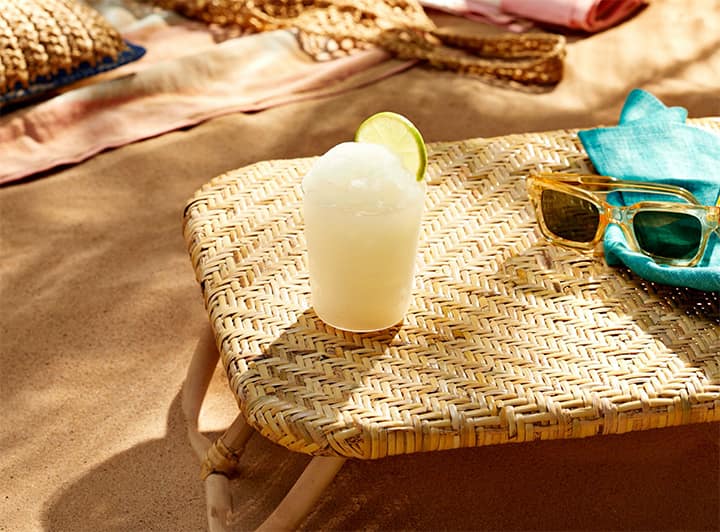 GET READY TO GO
Now you've selected your drinks, it's time to head to the party. But before you go check out these hacks to keep your drinks cool and ultra-tasty.
KEEP IT COOL
"Mmm, lukewarm cocktails," said no one, ever. Chances are your picnic will be packing with heat, so make sure you pack your cocktails into a thermos to keep them cold. Put it in your cooler surrounded by ice that can double as ice in your drink and voila! Cold cocktails for all. Even better, put it in a Chilly bottle to keep it icy cool! This trick is perfect for RUM PUNCH, or any juice-based cocktails that won't fizz up or explode.
KEEP IT FRESH
Are garnishes strictly necessary? No. Would your picnic cocktails be better with them? Yes. Slicing a few limes, oranges and lemons and packing them into tiny tupperware takes no time at all, but adds that extra fresh feeling to your drink. Plus, who doesn't like nibbling on a rum-soaked orange wedge?
KEEP IT FRUITY
Speaking of rum-soaked orange wedges, why not dunk a few more fruits in some rum? Cut up your favorite fruits, like watermelon, strawberries, pineapples and bananas, and douse them with rum, orange juice and lime. You'll never go back to a regular fruit salad again!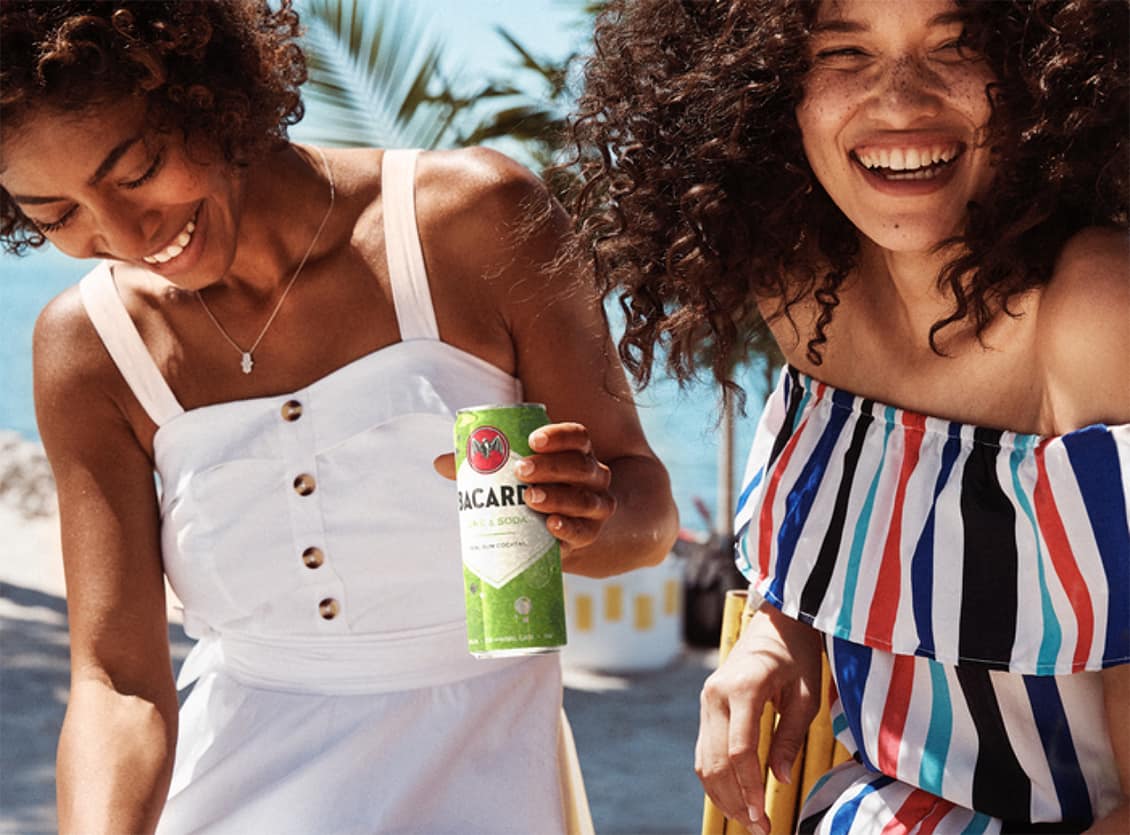 SET THE VIBE
Party time! You've arrived with drinks in hand, now it's time to create some ambience. Here are our top tips for keeping the vibe going, no matter if you want to keep it chill or turn up the party.
MUSIC
There's no better way to set the vibe than to play some music, so bring a small pair of speakers to play your favorite tunes on the go. Not sure what to play? Check out our Spotify playlists to bring the Caribbean to your picnic.
JUST FOR FUN
Having a frisbee or blow-up beach ball on hand is a life saver for those who just need to move. And for those who would rather stay grounded, a deck of cards never hurts.
PROTECT YOUR COCKTAILS!
Let's not water the grass with your Mojito. Keep your vibe up and your cocktails from spilling by using fun inflatable drink holders or picnic stick drink stems. Don't forget to use cocktail name tags so you know who's whose.
TIME TO GO! SALUD!
With these quick and easy picnic tips, you'll be on your way in no time. Don't forget to snap some photos to share with us on social! We'd love to see how you picnic with BACARDÍ, so tag us at @BacardiUSA and #DoWhatMovesYou to spread the fun.
RELATED CONTENT
EXPLORE BACARDÍ